Rent Barnum Hall
Barnum Hall hosts a wide range of professional and community events, including performances of symphonies, popular music, dance, opera, book signings, lectures, film screenings and more.


To Rent
The renovated theater provides a range of options for performances. Primary features include:
* Seating for 1,248 with 749 downstairs in the orchestra and 499 on the second level
* Hydraulic orchestra lift
* Complete fly system with full drapes and scrim
* Full and adjustable Wenger Orchestra Shell
* Stage level loading dock
* Full lighting and sound equipment operated from back of house booth
* Screening potential with front and rear projection screen
* Fazioli 9 foot Concert Grand Piano and 6 foot Steinway B Concert Grand
* Restored 1922 Wurlitzer Theatre Pipe Organ
* Green room, dressing rooms and backstage restrooms.

Technical Specifications »

Contact Us for Rental Information:
1. Fill out the Avaliability Request Form »
a. Email facilitypermits@smmusd.org
b. Fax - 310.255.7992
c. USPS - Facility Use Department, 601 Pico Blvd., Santa Monica, CA 90405

2. If the venue is available, we will contact you for additional information and then send a "Cost Estimate".


Other Venues
While Barnum Hall is the flagship of our theatrical spaces, we have a wide range of indoor and outdoor theaters, amphitheaters and performance spaces that are available for rent by commercial and nonprofit organizations, including:
* Santa Monica High School Memorial Greek Amphitheatre
* Santa Monica High School Humanities Theatre
* Malibu High School Auditorium
* Malibu High School Amphitheatre
* John Adams Middle School Auditorium (under construction)
* Lincoln Middle School
* Various Auditoriums & Cafetoriums Located at Our 11 Elementary School Locations
* Dance Studio Rehearsal Space
Venue Locations and information »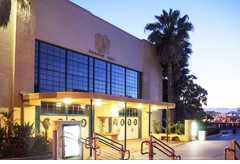 Exterior - Barnum Hall Aglow at Night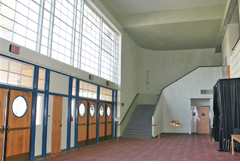 Interior - Lobby View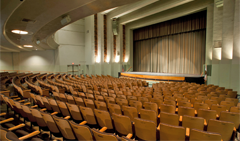 Interior - House Right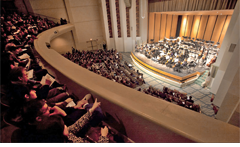 Interior - View from the Mezzanine